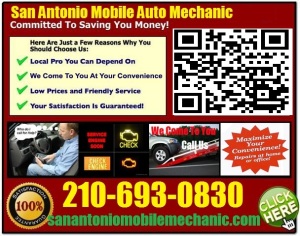 Mobile Mechanic Boerne TX Auto Car Repair garage tech that will come to fix your car at home or prepurchase foreign vehicle inspection review near me call 210-693-0830 for dependable, affordable and top-rated company that will travel to you to do onsite work on your job parking lot, business office, house or apartment or on the side of the road for automotive truck repair services.
We have been providing professional help to auto owners in Boerne, Texas for many years. As we are unarguably the only mobile mechanic Boerne Texas that offers professional vehicle inspection and repairing services round the clock, you should contact us if you face any problems with your vehicle. Our professional and skilled engineers undertake a 19 point inspection of your vehicle to assess problems and fix them quickly. Some of our services include:
• Engine repair and tune ups
• Tire repair and replacement
• Checking the vehicle's heater and air conditioning systems and repairing them
other service we provide as Sanantoniomobilemechanic
Pre Purchase Vehicle Inspection Service
Import Foreign Auto Repair Service
As we are just a call away, we shall send our professionals to your place immediately after we receive your call. We only use original equipment spares to ensure that your car runs like new, and offer a warranty on all the parts we replace. We shall replace them free of charge if they malfunction within the warranty period.
Our factory trained technicians, with the help of the latest diagnostic tools, can diagnose problems in vehicles imported from countries like Germany, Korea, and the European Union, and repair them using original spares. Little wonder that our clients call us the ultimate experts in foreign auto repair Berne Texas. We also offer pre purchase car inspection Boerne. Permit out specialists to check the second hand vehicle you are thinking of purchasing to find whether it is worth the price.
The best and the quickest
We are dedicated to providing the best auto repair services possible in the area in the quickest possible time. Why take a risk with your costly vehicle by seeking the help of others to repair it, when you can depend on our experienced car repair services to fix the problem. We are passionate about helping individuals with their vehicle related problems, irrespective of its model or brand. We are the leaders in foreign auto repair Boerne Texas too. Why do you not contact us for an obligation free quote today?
Hours Of Operation Service

Mobile Mechanic Boerne is a city in and the county seat of Kendall County, Texas hours of operation, we are Open 7 days a week's include weekend, Saturday, Sunday and Holiday charges might be different than regular Hours and sometime we are providing 24 hours emergency auto car service on the basis repair sell my house fast in San Antonio. As long as the part stores are open. You never know until you give us a call at 210-693-0830
San Antonio  Mobile Mechanic Services
Boerne, 78006, 78015
Business Name: Sanantoniomobilemechanic Auto Car Repair Service Shop Near Me
We Are Located In: San Antonio, TX
Opening Hours: Mon-Sun 8:00 AM-8:00 PM
Telephone: 210-693-0830
Website: http://sanantoniomobilemechanic.com/